On April 2, 2020, the world saw its one millionth infection of the novel disease COVID-19. The previous day, a committee with the National Academy of Sciences advised the White House that the latest research shows that coronavirus can be spread from person to person just by talking, or even breathing.
This new development supports social distancing recommendations to stop the spread of the coronavirus. We join the World Health Organization in spreading the word that the best way to save lives is to STAY HOME.
Social Distancing Works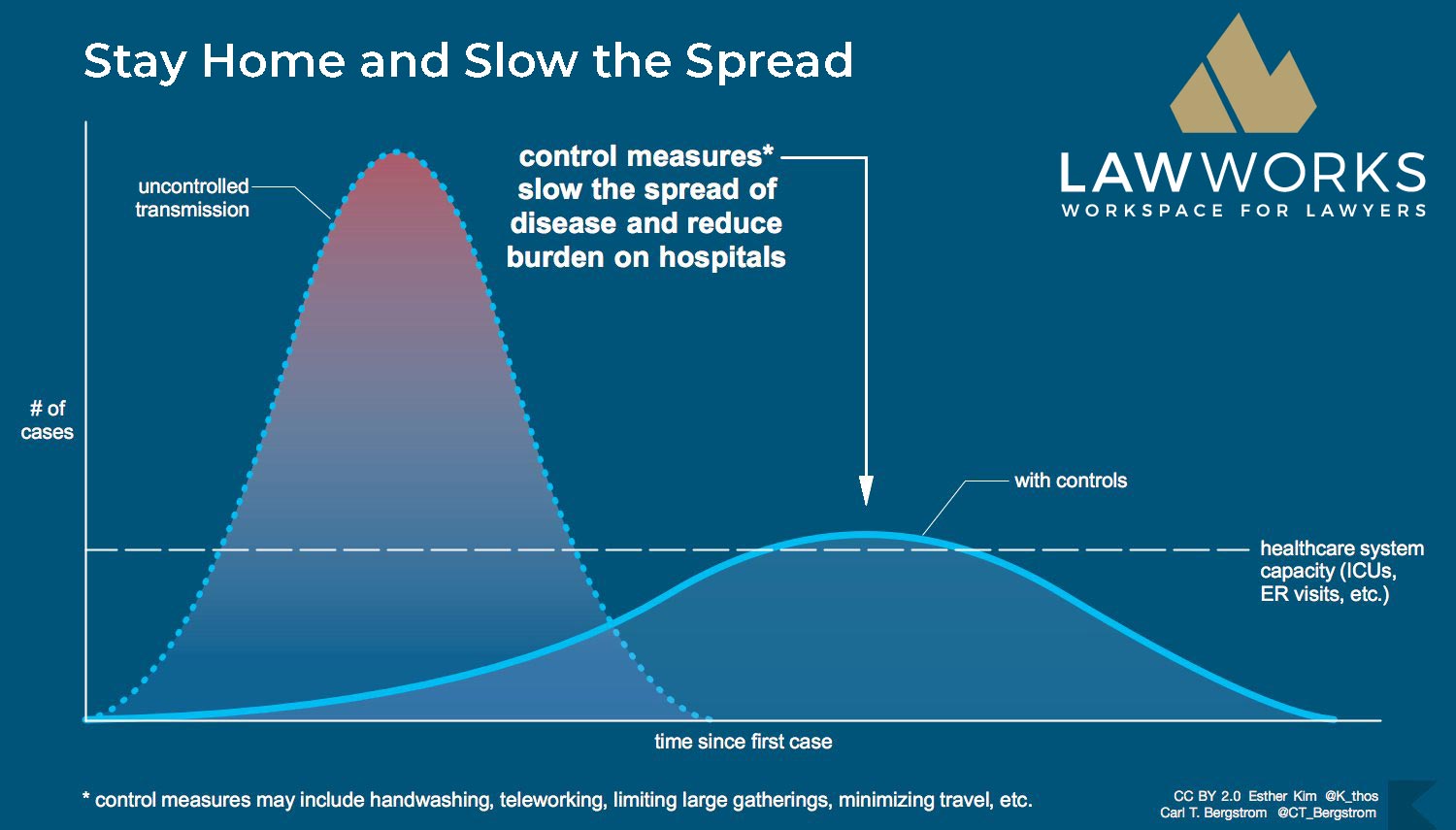 We at LawWorks recognize that some people aren't taking these recommendations seriously. We understand that staying home is a major inconvenience. But NOT staying home endangers the lives and health of other people.
Epidemiologists, people who are experts in epidemic illnesses, say that social distancing is required to flatten the curve, or slow the spread of the pandemic. If thousands of people become sick all at once, there wouldn't be enough hospital beds or ventilators for all of them. We know, because it's already happening in Italy.
If we can delay the spread of the virus so that new cases occur over the course of weeks or months, our existing healthcare system can accommodate all of them. And we know that because that's what the city of St. Louis did during the
1918 flu pandemic
. Within two days of the first reported case, they limited travel within, to and from the city, isolated the sick, quarantined anyone who had been exposed, closed schools and businesses, and encouraged everyone to stay home and observe strict hygiene standards. As a result, St. Louis had one-eighth of the fatalities of other cities that ignored the warnings.
And we're seeing similar evidence now. Only two weeks after leaders in the San Francisco Bay area and Washington state issued business and school closures and stay-at-home orders,
the curve of infections in those areas is flattening
compared with other U.S. cities.
Ways to Stay Home Instead of Going Out
Here are some ways you can keep from needing to leave your house, and to stay sane while you're doing your part:
Keep date night alive at home
Dress up and order off the menu from a local restaurant, using food delivery services like GrubHub, PostMates or DoorDash. (This is a great way to support both gig workers and your local restaurants during this business downturn.) Dine by candlelight.
Play a board game or card game. (Strip poker, anyone?)
Or try these other at-home date ideas
.
At-home beauty treatments
Here are some gender-neutral at-home grooming suggestions:
Trim those nose hairs. Look in the mirror and turn both ways to view your profile. If you can see nose hairs, they need trimming. (If you have visible hair in your ears, trim that too.)
While you're at it, trim those bushy eyebrows. Here's a how-to guide from GQ.
If you have a unibrow, give your brows a trial separation. No need to go crazy, but pluck just the hairs on the bridge of your nose.
If you want to fully shape your brows, click here for instructions.
Exfoliate. If you don't have a body scrub, no need to go out and buy one. Here are some DIY scrub recipes you can make with stuff you have at home.
Moisturize, especially after you exfoliate. You probably have some lotion at home, but if not, here's a recipe.
Get your feet in shape. Soak, scrub, trim those toenails and then moisturize. Here's a great tutorial.
Give yourself a manicure. Here's a good guide.
If you color your hair and your hairdresser is unavailable, you can try coloring at home, or just give yourself a root touch-up with a home coloring kit.
Make your home an nicer space to shelter in place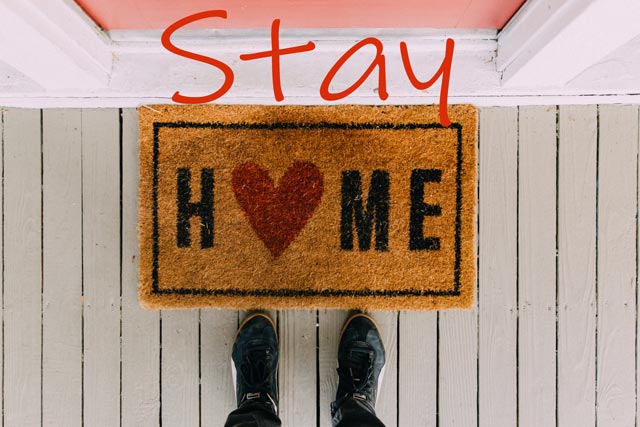 If You Absolutely, Positively Need to Go Out, Wear a Non-surgical Mask
On April 1, Los Angeles Mayor Anthony Garcetti recommended that all residents wear non-surgical masks whenever they absolutely need to leave home. Medical masks should be reserved for the healthcare workers who need them; but regular citizens can protect themselves with a cloth bandana, scarf or balaclava (ski mask), which can be washed after each use.
Here are some creative ideas to make your own effective masks.
Even though you're wearing a mask, please do your best to maintain a 6-foot distance between you and others, and keep in mind that wearing masks is not a substitute for sheltering in place. Use our recommendations to keep you and your family safe at home, so we can put COVID-19 in its place.