Thanksgiving is somewhat unique among U.S. holiday traditions, in that it is observed by people of almost every religious and political belief. It's a time when most Americans take a day to stop and be thankful for what they have – and for most of us, that's a lot.
Lawyers are no exception. And as it turns out, they have a good deal to do with the Thanksgiving holiday.
Thanksgiving and the Law
Thanksgiving has been practiced in the United States since 1789, but it did not become an annual federal holiday until 1941.
On September 28, 1789, the First Federal Congress passed a resolution asking President George Washington to recommend a national day of thanksgiving. Washington named Thursday, November 26, 1789 as a day of public thanksgiving.
Subsequent presidents issued various Thanksgiving Proclamations for different dates. Then, in 1863, President Abraham Lincoln (who started his career as a lawyer) issued a proclamation that Thanksgiving be celebrated each year on the last Thursday of November. However, the Civil War kept that proclamation from being legal in all states.
Then, in 1939, the last Thursday in November fell on the last day of the month. President Franklin D. Roosevelt (also a lawyer) was concerned about the effect on Christmas shopping season and the economic recovery following the Great Depression. He issued a proclamation to move Thanksgiving to the second to last Thursday of November.
But not all states accepted this proclamation; in fact, 16 states refused. For two years, different U.S. states celebrated Thanksgiving on two different days.
Finally, on October 6, 1941 Congressional Resolution established the last Thursday of November each year to be Thanksgiving Day. Subsequently, a December 9, 1941 Senate amendment changed it to the fourth Thursday in November, accounting for those years November had five Thursdays. President Roosevelt signed the resolution on December 26, 1941.
Finally, if you're a fan of canned cranberry sauce, you can thank another lawyer – for changing his profession.
In 1912, Marcus L. Urann decided to leave his law practice to purchase a cranberry bog. Ordinarily, cranberries have a very short shelf life, and are only available for about six weeks each year. But after Urann opened his cranberry-canning factory in Hanson, Massachusetts, cranberry sauce and cranberry juice became available year-round. The cooperative he formed with competing cranberry growers and canners became known as Ocean Spray in 1957.
Things lawyers should be thankful for
Friendly Job Market
The US Department of Labor's Bureau of Labor Statistics projects that employment for legal occupations will grow 7% from 2018 to 2028. This is faster than the average for all other occupations - an estimate of 93,300 new jobs. Wages for legal occupations is more than double the median wage for all other occupations, and is not expected to decrease. The demand for lawyers is expected to continue as new and emerging practice areas create a wide field in which to expand.
Increased mobility
With innovations in technology and connectivity, lawyers are no longer chained to their desks and can practice law virtually anywhere. From a home office, on the road, or in a shared office space like LawWorks, lawyers have 24/7 access to information and the ability to collaborate with others.
Your intelligence and education
Lawyers have the ability to communicate effectively, which is not a common skill. Moreover, you can use this skill to advocate for positive change in a thoughtful, non-violent way. You are trained to think logically and use the IRAC methodology (Issue, Rule, Application, Conclusion) to voice a compelling line of reasoning. Not many have this ability, and it's a valuable gift.
You help people, and you help society
As a lawyer, whatever your practice, your work serves the cause of justice, both to your individual clients, and to society as a whole. Your work influences safety, security and legal reform for the common good.
Chances are, you never have to take the bar exam again
Well probably. You may choose to pursue a license in a state that requires you to take it, but not every state does, and not every lawyer will need to.
Opportunities to learn and grow
Practicing law is a craft – every case teaches you something that makes you a better practitioner. Most attorneys must also complete ongoing formal legal training through Minimum Continuing Legal Education (MCLE). These classes also provide opportunities to learn about new laws and areas of the law, and to expand your skills and interests. Membership in LawWorks can help you with earn MCLE credits with our free course offerings.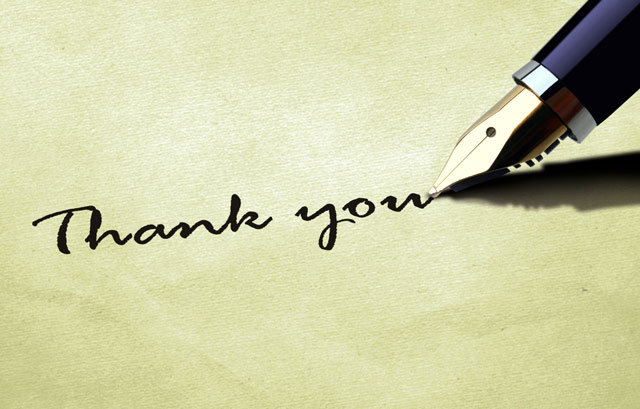 A New Thanksgiving Tradition
While we're reminding you of all the things lawyers should be grateful for, think about establishing an annual tradition to spread the love. Send your clients a Thanksgiving message to thank them for placing their trust in you.
But don't send a generic mass message. Take the time to craft and send personal messages to express gratitude to each one. If you have a lot of clients, involve your team or select those clients who mean the most to you and your practice.
It's worth it for a couple of reasons: your clients will appreciate your thoughtfulness and respond with goodwill. Second, crafting these messages will remind you why you are fortunate to be able to do what you do. It will help you appreciate your clients and all those who make your privilege possible. It will make you truly thankful.
Gratitude also triggers positive mental feedback loops and sustain more positive emotions. This positive psychology is good for emotional and mental health, and has surprising benefits to our physical health as well. According to gratitude expert Robert Emmons, grateful people tend to have lower blood pressure and are more likely to exercise regularly and take better care of their health. Being thankful has even been shown to boost your career and improve relationships, and result in greater life satisfaction.
To really gain the benefits of gratitude, however, you need to practice it more than just once a year. Make Thanksgiving a year-long tradition. Start a gratitude journal, or just a habit of counting your blessings daily.
Whatever your plans for Thanksgiving Day this year, the LawWorks team wishes you a wonderful holiday, filled with all the things that make you most grateful!